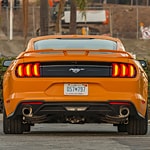 If you are looking for big speed at an affordable price, then the popular Ford Mustang is your choice. This is the affordable sports car that knows how to handle the left lane. Check out the top performance features of this year's Mustang.
The Mustang offers you a powerful line-up of engines. For those looking for affordable entry-level power, there is the 2.3-liter EcoBoost engine with up to 310 horsepower. For those who want that big V-8 power, the Mustang comes through with its 5.0-liter engine with up to 410 horsepower. Looking for serious performance that will blow away just about everything on the road? Then you will want to check out the special edition Mustangs including the Shelby GT350, the Shelby GT500 and the BULLITT edition.
We're ready to make you a great deal on the brand new Mustang of your choice. Visit us today at Oneonta Ford LLC and take a test drive.