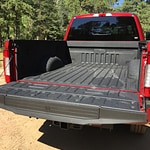 If you need a truck built for the toughest of jobs, the Ford Super Duty may be your best bet. They are engineered with a more robust design than most trucks, so they can stand up to years of abuse. Most of all, they are built to provide raw power and massive amounts of torque.
Ford offers several different engines here, and all of them provide impressive horsepower and torque output. These engines are without a doubt the most important power features available from the Super Duty. The base engine is a 6.2-liter V8 that produces 385 horsepower and 430 pound-feet of torque.
Here at Oneonta Ford LLC, we recommend the 6.7-liter Powerstroke Diesel for those who want the best that Ford has to offer. This diesel V8 cranks out a whopping 475 horses with 1,050 pound-feet of torque. It can haul a payload or tow just about anything.