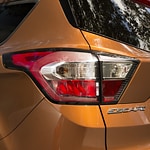 When you drive the Ford Escape for the first time, you will come to realize why it has become such a popular compact SUV. This is a vehicle that seems to have it all while being small and nimble at the same time. These two capability features alone will prove this to be the case.
You no longer have to worry about the Escape performing acceptably on all types of terrain, as it has that covered. With four different drive modes that you can select from, you can be confident that the vehicle will respond accordingly. You can choose from Deep snow and sand, Eco, Normal, and Sport modes.
You will also discover that the Escape is plenty powerful to two between 2,000 and 3,500 pounds of cargo depending on which trim level you choose. This is enough to really take off on a cool family adventure. Oneonta Ford LLC would like to invite you down for a test drive.