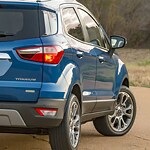 When you're in the market for a compact crossover vehicle, the last thing on your mind is probably that vehicle's amenities. However, we here at Oneonta Ford LLC think that's just ridiculous, especially when you take into account all the vehicles that are striving to differentiate themselves from the pack. The Ford EcoSport is a prime example of this.
The EcoSport boasts some impressive amenities, including a decked-out speaker system that was made with the EcoSport in mind. With ten speakers and an intricate layout, the B & O Audio System is definitely worth your attention. Plus, the EcoSport also boasts a number of small inclusions that aren't focal points of its design, but add a nice touch - the heated steering wheel is a great example of this. You might not brag about it, but you will appreciate it.
To test drive the EcoSport, come by out location here in Oneonta at anytime!