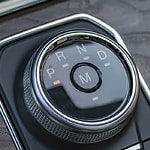 The rugged and responsive Expedition offers several different trims and engines, depending on the amount of horsepower and torque you're looking for. The base version of the Expedition comes with a twin turbocharged V6 engine that delivers 375 horsepower. The XLT and Limited versions offer the same power but come with different cabin and space packages.
The Expedition Platinum offers the most horsepower at 400. All versions come with a 10-speed automatic transmission and rear-wheel drive, though 4WD is an option. The Expedition also has one of the best 0 to 60 MPH rating's for a large-size SUV. For Oneonta drivers, the new full-size SUV from Ford also delivers on safety features, such as blind spot monitoring and lane keep assist.
It's best to test drive the Expedition at Oneonta Ford LLC and select the best version with the most performance capacity. You'll be able to test drive all versions to see the horsepower. The latest Expeditions can tow up to 9300 pounds if you're looking for the perfect SUV for your boat.