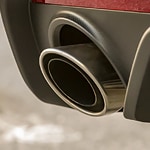 When it comes to automotive audio engineering, Ford has certainly done something impressive with the new Mustang. This is already one of Ford's most attention-grabbing vehicles, but the unique Active Valve Performance Exhaust truly puts the Ford Mustang in another category when compared to other Oneonta vehicles.
Oneonta Ford LLC expects the Quiet Start, Normal, Sport and Track settings of the Active Valve Performance Exhaust to be versatile enough to satisfy local Ford Mustang owners' preferences. What, though, is the purpose of these settings? They are meant to let a Mustang driver control the vehicle's level of sound based on the location and time of day.
For a peaceful location, you can use the Quiet Start setting to keep a lower profile. However, the Sport setting is designed for Mustang drivers who seek both adrenaline and attention. Additional modes include Normal and Track, which each serve separate purposes.