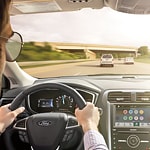 Smartphone-related accidents are a significant problem. At Oneonta Ford LLC, we're committed to helping you solve this issue. The following smart features can help you more safely use your smartphone while driving a Ford Fusion.
When you're stuck in Oneonta traffic, smartphone directions are an excellent help for finding alternative routes and current traffic reports. Unfortunately, removing your hands from the wheel to access your smartphone is not a safe move. The Ford Fusion features SYNC3, a voice-activated system that gives you access to navigation, weather, and many other types of content available on your iPhone or Android phone.
If you have young children, fighting over who gets to play the next smartphone game can quickly escalate into a big fight. Fortunately, the Fusion features FordPass Connect WiFi for up to 10 devices. With Ford Fusion smart features, everyone can remain connected on the road.